PA Kingston 1929 Kingstonian High School Yearbook
Scans of each page of the yearbook showing the various photos and names from this old yearbook from a long gone school of Wyoming Valley in Northeastern Pennsylvania.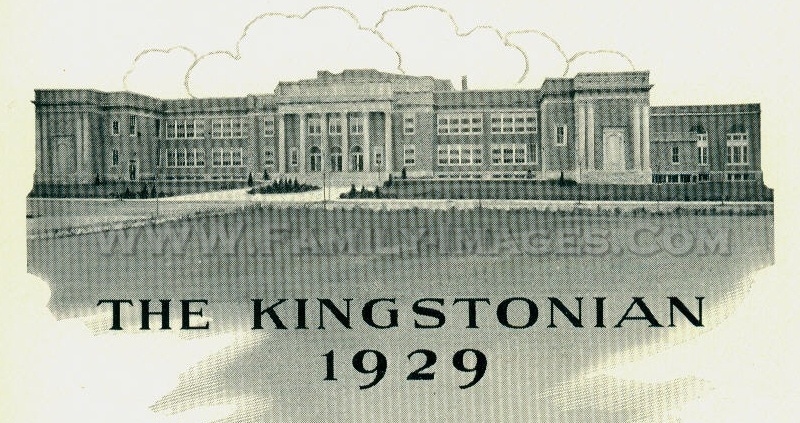 If you have any questions or comments about this page or especially if you have anything to share with our visitors, CONTACT ME BY CLICKING HERE! and we can work out the details. This yearbook was loaned to me by a visitor to the site so I could share this great treasure with all our visitors. If you have any yearbooks you would be willing to loan me for a few weeks, I would love to scan them and put them online. If you have the time, you can scan the book and just send me the scans.
---
PA Kingston 1929 High School Kingstonian Yearbook
PA Kingston 1929 Kingstonian High School Yearbook Title Page
PA Kingston 1929 Kingstonian High School Yearbook Foreword
PA Kingston 1929 Kingstonian High School Yearbook Contents
PA Kingston 1929 Kingstonian High School Yearbook Mr Emmett Marcy
PA Kingston 1929 Kingstonian High School Yearbook School Board Directors with Names
Dorrance, Harris, Davis, Phillips, Jones, Husted, Martin
PA Kingston 1929 Kingstonian High School Yearbook Superintendent of Schools C B Hanyen Maybe
PA Kingston 1929 Kingstonian High School Yearbook Soldiers and Sailors Memorial High School
PA Kingston 1929 Kingstonian High School Yearbook Candid Shots
View of Kitchen, Physics, Chemistry, Biology Areas
PA Kingston 1929 Kingstonian High School Yearbook High School Faculty with Names
Merkel, Golden, Jones, Allen, Bell, Brown, Bush, Cahalan, Colvin, Gorgan, Dana, Davenport, Downing, Devendorf, Doole, Edwards, Eike, Evans, Garrison, Gregory, Hess, Hankey, Jones, Kelley, Krieger, Kitchener, Lee, LeQuatte, McLaughlin, McHugh, Marcy, Page, Piccone, Pritchard, Sweet, Schulz, Smith, Thompson, Weis, Williams
PA Kingston 1929 Kingstonian High School Yearbook Faculty Autographs
Hess, McHugh, Dooley
PA Kingston 1929 Kingstonian High School Yearbook Grads Graphic
PA Kingston 1929 Kingstonian High School Yearbook Seniors Class Officers
Kopicki, Malkames, Prideaux, Hammonds
PA Kingston 1929 Kingstonian High School Yearbook Seniors Graphic
PA Kingston 1929 Kingstonian High School Yearbook Seniors Andreas to Butkiewicz
Andreas, Armold, Ash, Banker, Barnett, Bell, Bergsman, Boyle, Butkiewics
PA Kingston 1929 Kingstonian High School Yearbook Seniors Cahalan to Daily
Cahalan, Camin, Charneski, Cole, Comiskey, Cronin, Corgan, Cunningham, Daily
PA Kingston 1929 Kingstonian High School Yearbook Seniors Davies to Dilg
Davies, Davis, Dearing, Deets, DeLeon, Dilg
PA Kingston 1929 Kingstonian High School Yearbook Seniors Dowgiallo to Fleming
Dowgiallo, Drugach, Dussinger, Evans, Ferry, Finley, Fleming
PA Kingston 1929 Kingstonian High School Yearbook Seniors Fraley to Hallock
Fraley, Froede, Garney, Gedrich, Gorleski, Gray, Gusluski, Hallock
PA Kingston 1929 Kingstonian High School Yearbook Seniors Hardy to Jones
Hardy, Hendershot, Hickok, Hoover, Huddock, Ide, Isbitski, Jackimovicz, Jones
PA Kingston 1929 Kingstonian High School Yearbook Seniors Jones to Latimer
Jones, Koleszar, LaBar, Laggan, Lamoreaux, Latimer
PA Kingston 1929 Kingstonian High School Yearbook Seniors Lawler to Marchall
Lawler, Lefkowitz, Levy, Lewis, Luchitski, MacDaniels, Maloney, Markalonis, Marchall
PA Kingston 1929 Kingstonian High School Yearbook Seniors McCole to Mundy
McCole, McGeehan, McGowan, McGuire, Michalek, Miller, Muldowney, Mulhern, Mundy
PA Kingston 1929 Kingstonian High School Yearbook Seniors Morgan to ONeil
Morgan, Natrass, Nayman, Nicol, Nuss, OConnell, Olack, ONeil
PA Kingston 1929 Kingstonian High School Yearbook Seniors ONeil to Ransom
ONeil, Oplinger, Oscar, Parsons, Pendered, Peters, Pickett, Prichard, Ransom
PA Kingston 1929 Kingstonian High School Yearbook Seniors Reed to Saunders
Reed, Reiser, Reynolds, Rhodes, Roat, Royer, Ruch, Rydd, Saunders
PA Kingston 1929 Kingstonian High School Yearbook Seniors Sands to Smith
Sands, Schoonover, Schoser, Seiple, Semetkovsky, Shoostine, Schultz, Skripka, Smith
PA Kingston 1929 Kingstonian High School Yearbook Seniors Speece to Thomas
Speece, Spencer, Sponseller, Springer, Spudis, Stearns, Stevenson, Tallman, Thomas
PA Kingston 1929 Kingstonian High School Yearbook Seniors Thomas to Walsh
Thomas, Thompson, Tingley, Turpin, Buskirk, Vernoy, Vincent, Wallace, Walsh
PA Kingston 1929 Kingstonian High School Yearbook Seniors Wasley to Yanuski
Wasley, Williams, Winder, Yanuski
PA Kingston 1929 Kingstonian High School Yearbook Seniors Zamoyski to Zawatski and Alma Mater
Zamoyski, Zawatski
PA Kingston 1929 Kingstonian High School Yearbook Senior Class History
PA Kingston 1929 Kingstonian High School Yearbook Senior Washington Campaign
Elwood H Cole
PA Kingston 1929 Kingstonian High School Yearbook Be It Remembered by Turpin and Chase
Mentions Davis, Bennett, Dilg, Semetkovsky, Gommer, Kickok, Saunders, Bittenbender, Paul, DeLeon, Page, Daily, Gusaluski
PA Kingston 1929 Kingstonian High School Yearbook Undergrads Graphic
PA Kingston 1929 Kingstonian High School Yearbook Junior Class Photo
Junior Class Names for This Photo on Next Page
PA Kingston 1929 Kingstonian High School Yearbook Junior Class Names
Junior Class Names for Juniors Shown on Previous Page
PA Kingston 1929 Kingstonian High School Yearbook Junior Retrospect
Mentions Reese, Thomas, Johnson, Wharton, Turner, Zebrowski
PA Kingston 1929 Kingstonian High School Yearbook Review of Sophomore Class
Mentions Nicholas, Carney, Kreitzberger, Hamilton, YWCA
PA Kingston 1929 Kingstonian High School Yearbook Sophomores Class Photo
Sophomore Class Names Appear on Next Page
PA Kingston 1929 Kingstonian High School Yearbook Sophomore Class Names
Sophomore Class Names for Photo on Previous Page
PA Kingston 1929 Kingstonian High School Yearbook Freshman Class Photo
Freshman Class Names Appear on Next Page
PA Kingston 1929 Kingstonian High School Yearbook Freshman Class Names
Freshman Class Names for Photo on Previous Page
PA Kingston 1929 Kingstonian High School Yearbook Freshman Class Names and Class History
Balance of Freshman Names for Freshman Photo and then Freshman Class History
PA Kingston 1929 Kingstonian High School Yearbook Football Graphic
PA Kingston 1929 Kingstonian High School Yearbook Football Schedule
Mentions Pauxtis
PA Kingston 1929 Kingstonian High School Yearbook Football Team Maybe
PA Kingston 1929 Kingstonian High School Yearbook Girls Basketball Team with Names
Phillips, Eyer, Thomas, Whitenight, Comisky, Jones, Edgar, Vincent, Leisenring, Carney, Paul, Huttner, Thomas, Williams, Gordon, Fegley, Shepherd, Lamoreaux, Lawler, Gedrich, Buskirk, Forty Fort, Luzerne, Wyoming, West Pittston, Plains, Wilkes Barre Business College
PA Kingston 1929 Kingstonian High School Yearbook Boys Basketball Team with Names
Sponsellor, Ferry, Gusgeski, Jewell, Dougherty, Bennett, Mattras, Smith, Wharton, OMalley, Schultz, Gommer, Leskowski, Kreitzberger, Davis, Evans, Patrowski, Pritchard, Wilcox, Van Valkenburgl, Pelcavage, Kase, Yenashuski, Davis, Jones, Culver
PA Kingston 1929 Kingstonian High School Yearbook Autographs PG 50
PA Kingston 1929 Kingstonian High School Yearbook Activities
PA Kingston 1929 Kingstonian High School Yearbook Le Cercle Francais PG 52
Mentions Smith, Wharton, Cunningham, Page, Sponsellar, Williams, Davis, Evans, LUchitski, Vincent, Marshall, Muldowney, Jackimovicz, Huddock, Bacheson, Turner, Strunk, Hines, Hooper, Jenkins, Bennett, Mangan, Cahalan, Johns Garrison
PA Kingston 1929 Kingstonian High School Yearbook Latin Club PG 53
Cronin, Custer, Tallman, Mangan, Zawatski, Sweet
PA Kingston 1929 Kingstonian High School Yearbook Spanish Club PG 54
Jones, Reynolds, Paul, Andreas, Custer, Pickett, Page, Vincent, Tallman, Springer, Page
PA Kingston 1929 Kingstonian High School Yearbook Die Deutsche Verein PG 55
German Club, Dilg, Rynk, Charneski, Zebrowski, Lefkowitz, Schultz, Semetkovsky, Wallace, Zebrowsky, Bigley, Turpin, Disque, Page, Charneski
PA Kingston 1929 Kingstonian High School Yearbook Home Economics Club PG 56
Shindel, Page, Smith, Thompson, Bush, Kitchener, Simmers
PA Kingston 1929 Kingstonian High School Yearbook Home Economics Club PG 57
Group Photo of Home Economics Club Members
PA Kingston 1929 Kingstonian High School Yearbook Commercial Club PG 58
Cahalan, Brown, Bacheson, Bergsman, Camin, Comiskey, Daily, Evans, Froede, Gedrich, Gusalusky, Hallock, Hendershot, Isbitsky, Jones, Koleszar, Markalonis, McGowan, Oplinger, Peters, Rhodes, Roat, Skripka, Williams, Jones, Andreas, Hooper, Isbitsky, Olack, Stevenson, Vernoy, McGeehan
PA Kingston 1929 Kingstonian High School Yearbook El Eco Club PG 59
Clark, OMalley, Eyer, Bonham, McHugh, Weiss
PA Kingston 1929 Kingstonian High School Yearbook Art Department PG 60
PA Kingston 1929 Kingstonian High School Yearbook Art Department PG 61
Group Photo, No Names
PA Kingston 1929 Kingstonian High School Yearbook Sophomore Outing Club PG 62
Myers, Clark, Gluhoski, Colvin, Piccone
PA Kingston 1929 Kingstonian High School Yearbook Band PG 63
Professor Rowley
PA Kingston 1929 Kingstonian High School Yearbook Orchestra PG 64
PA Kingston 1929 Kingstonian High School Yearbook Sophomore Girls Glee Club PG 65
Paul, Phillips, Doud, Gaines, Long, Cole, Williams, Thomas, Davis, Ostrander
PA Kingston 1929 Kingstonian High School Yearbook Charm School PG 66
Foster, Jones, Prideaux, Smith, Cole, Kopicki, Schultz, Ransom, Walsh, Van Buskirk, DeLeon, Levy, Marshall, Dilg, MacDaniels, Evans, Morgan, Davis, Vincent, Reed
PA Kingston 1929 Kingstonian High School Yearbook KHSA PG 67
Davis, Gommer, Marshall, Paul, DeLeon, Jones, Mangan
PA Kingston 1929 Kingstonian High School Yearbook Staff PG 68
Hickok, DeLeon, Dilg, Barnett, Schultz, Buskirk, Davis, JOnes, Nuss, Cole, Evans, Zebrowski, Turner, Jones, Smith, Kasarda, Robbins, Hammonds, Markalonis
PA Kingston 1929 Kingstonian High School Yearbook Girls Reserves PG 69
Williams, Buskirk, Davies, Bush
PA Kingston 1929 Kingstonian High School Yearbook Alpha HI-Y Club PG 70
Wasley, Jones, Nuss, Hickok, Schultz
PA Kingston 1929 Kingstonian High School Yearbook Hi-Y Beta Chapter PG 71
Davis, Wilcox, Myers, Thomas
PA Kingston 1929 Kingstonian High School Yearbook Lettermans Club PG 72
Sponsellar, Corgan, Gommer, Davis; Frank Powell and Skid Dan J Davis and Goff 98 signed this page
PA Kingston 1929 Kingstonian High School Yearbook Autographs PG 73
Dennington, Dussinger, MacDavitt, Haulsey, Kenigan, Leshinski, Shaw, OKeefe, Richards, McCarthy, McHale, Kitchen, Gommer, Thomas, Howell, Carle, Strait, Perigo, Steele, Hutter, Steinhauer, Kelly, Laudenbaugh maybe, Gober, Reed, Thomson, Ristler maybe
PA Kingston 1929 Kingstonian High School Yearbook Alphabet PG 74
Andreas, Banker, Camin, Davis, Evans, Fraley, Guzzy, Huddock, Isbutsky, Jones, Kopicki, Lefkowitz, Levy, McGowan, Nattras, Lauder, ONeil, Pickett Rydd, Seiple, Thompson, Vernoy, Wallace, Yanuski
PA Kingston 1929 Kingstonian High School Yearbook Horsepital PG 75
Speece, Williams, Thomas, Hendershot, McGuire, Bell, Reed, Sans, Sanders, Evans, Hickok, Fleming, Spudis, Finley, Thompson, Daily, Hardy, Smith, Ferry, Peters, Parsons, Semetkovsky, Pickett, Comiskey, Mundy
PA Kingston 1929 Kingstonian High School Yearbook Circus and Movies PG 76
Ramson, Barnett, Smith, Kopicki, Dussinger, Morgan, Muldowney, Turpin, Malkames, Gray, Cunningham, Cronin, Williams, Pendered, Marshall, Thomas, Reynolds, Arnold, Jones, Parsons, Dowgiallo, Evans, Buskirk, Ferry, MacDaniels, Davies, Pickett, Froede, Bergsman, Prideaux, Nayman, Davis, Hammonds, Schultz, Dearing, Cole, Schoser, Zawaski, Sanders, Sponseller, Wasley, DeLeon, Finley, JOnes, Willaims, Gussy, Cahalan, Bell, Tallman, Speece, Lefkowitz, Hickok, Hardy, Walsh, Speece, Markalonis, Yanuski, Comiskey, Barnett, Evans, Cronin, Stevenson, Mundy, Vincent, Hoover, Ferry, MacDaniels, Prideaux, Smith, Gray, Levy, Ransom, Pendered, McCole, Wallace, Jones, McGowan, Arnold, Dussinger, Miller, Luchitski, Springer, Vernoy, Reiser, Cunningham, Corgan, Parsons
PA Kingston 1929 Kingstonian High School Yearbook ADS PG 77
PA Kingston 1929 Kingstonian High School Yearbook ADS PG 78
PA Kingston 1929 Kingstonian High School Yearbook ADS PG 79
PA Kingston 1929 Kingstonian High School Yearbook ADS PG 80
PA Kingston 1929 Kingstonian High School Yearbook ADS PG 81
PA Kingston 1929 Kingstonian High School Yearbook ADS PG 82
PA Kingston 1929 Kingstonian High School Yearbook ADS PG 83
PA Kingston 1929 Kingstonian High School Yearbook ADS PG 84
PA Kingston 1929 Kingstonian High School Yearbook ADS PG 85
PA Kingston 1929 Kingstonian High School Yearbook ADS PG 86
PA Kingston 1929 Kingstonian High School Yearbook ADS PG 87
PA Kingston 1929 Kingstonian High School Yearbook ADS PG 88
PA Kingston 1929 Kingstonian High School Yearbook ADS PG 89
PA Kingston 1929 Kingstonian High School Yearbook ADS PG 90
PA Kingston 1929 Kingstonian High School Yearbook ADS PG 91
PA Kingston 1929 Kingstonian High School Yearbook ADS PG 92
PA Kingston 1929 Kingstonian High School Yearbook ADS PG 93
PA Kingston 1929 Kingstonian High School Yearbook ADS PG 94
PA Kingston 1929 Kingstonian High School Yearbook ADS PG 95
PA Kingston 1929 Kingstonian High School Yearbook ADS PG 96
PA Kingston 1929 Kingstonian High School Yearbook ADS PG 97
PA Kingston 1929 Kingstonian High School Yearbook ADS PG 98
PA Kingston 1929 Kingstonian High School Yearbook ADS PG 99
PA Kingston 1929 Kingstonian High School Yearbook ADS PG 100
PA Kingston 1929 Kingstonian High School Yearbook ADS PG 101
PA Kingston 1929 Kingstonian High School Yearbook ADS PG 102
PA Kingston 1929 Kingstonian High School Yearbook ADS PG 103
PA Kingston 1929 Kingstonian High School Yearbook ADS PG 104
---